6 Naughty Hotels To Take Your BDSM Date To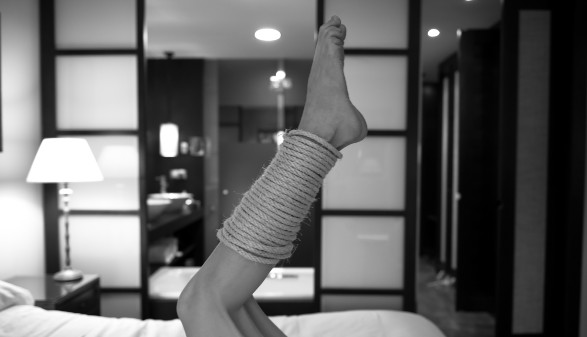 So you've found the perfect sub to your dom, most likely on subs-and-doms.com right? (*wink wink*) The beauty of online dating means that at some point you're going to meet in person which adds a whole new level of anticipation and excitement. Why not celebrate your kinky compatibility with a wild overnight stay? Afterall, sex is always better away from home.
Whilst a luxury hotel stay screams romance, they all tend to have the same standard vanilla offerings. So we've unearthed these six sexy hotels to inspire your naughty sexscape search.
1. The Secret Dungeon, High Wycombe, UK
Overview
Technically a B&B and not a hotel, but it's impossible not to include this delectable UK dungeon space in our list. A quick online search for BDSM Hotels sees The Secret Dungeon high in the UK listings, and not without excellent reason. Conveniently (yet secretly) located close to the train station, this authentic S&M dungeon comes fully equipped for all your deviant desires.
Highlights
With 22 pieces of equipment there's literally something for everyone's tastes, giving you a great opportunity to experiment with a piece you haven't tried before. Plus there's the added luxury of a jacuzzi hot tub when your BDSM date requires some soothing relaxation.
Recommended for
Seasoned BDSM lovers looking for space to push their kinky play to the next level
2. FetishHavenSA, Johannesburg, South Africa
Overview
Dubbed South Africa's ultimate kink venue, this unique fantasy space is owned and managed by experienced Dominatrix Mistress Cleo and her team of kink professionals and practitioners. The renovated warehouse spans 500sqm with 3 overnight stay and play rooms and 6 themed rooms such as Lucifer's Dungeon and the Perverse Medical Klinik, how delightfully depraved!
Highlights
As well as rooms for hire, the venue also hosts a range of parties, kink workshops, sub dom sessions, couples therapy and mentoring.
Recommended for
BDSM dates with specific fantasies or fetishes to fulfill
3. Karosta Prison Hotel, Latvia
Overview
Karosta Prison was a Nazi and Soviet military prison, in which hundreds of Latvian deserters were housed, sent to solitary confinement, or simply shot dead. Sexy huh? Hmm. Whilst not a specific BDSM hotel, the full prison experience with overnight stay ensures disobedient "guests" are insulted and verbally abused by persistent taunting prison guards.
Highlights
An overnight stay requires first signing a consent agreement giving some indication of just how seriously the staff takes their jobs. Guards may dish out physical punishment by means of exercise or cleaning plus the prison is said to house the spirits of those who died within its walls.
Recommended for
Discipline lovers craving gritty punishment and humiliation
4. Cherry Twins, Kieve, Ukraine
Overview
Ukraine's first sex hotel provides the ultimate backdrop to live out your craziest kinks. With minimum bookings from 3 hours, this BDSM hotel hosts seven uniquely themed rooms including Domination, Torture and Interrogation. Every room has been carefully crafted with selected decor, furniture and equipment allowing for fully immersive fantasies, keeping even the fussiest subs and doms happy.
Highlights
Discretion-friendly, the hotel offers half-masks and veils to hide faces from the video cameras in the hotel lobby and secure car parking. Plus a fully stocked 'minibar' including wine, contraceptives, lubricants, dildos, butt plugs and other toys to buy allows you to pack light.
Recommended for
Subs and doms and role-play fanatics
5. Propeller Island City Lodge, Berlin
Overview
With flying beds and upside down interiors, the 32 rooms designed and owned by artist Lars Stroschen are breath-taking pieces of art in their own right. Not necessarily designed with BDSM guests in mind, although a few rooms have kinky elements such as #15 Mirror Room, #25 Gallery features a round bed that can be pedal-spun and #31 Gruft has coffins (which close!) for beds.
Highlights
Room #42 Two Lions has dual steel cages (perfect for chaining up your BDSM date) measuring 1.5 meters tall resting on stilts in the middle of the room. The curtains preside what your audience sees. The toilet thrones atop a tower and permits voyeuristic peeks into the golden bathtub.
Recommended for
Ordinary BSMers seeking extraordinary surroundings
6. Hotel Alpha-In, Tokyo
Overview
One of the most famous love hotels in Tokyo, Alpha-In has 27, (27!) BDSM themed rooms spread out over 6 (6!) floors. The creepy facade of closed windows and the intentionally decaying-looking exterior gives it that gritty edge us BDSMers love. Each room comes with it's own equipment, including suspension setups and bondage frames.
Highlights
They have a very well-stocked in-house store where you can purchase all your toys such as candles, rope, etc or rent costumes. The mirrored hospital-themed room tends to be a regularly mentioned favourite.
Recommended for
BDSM lovers with a big budget (it ain't cheap folks, from £228 overnight)
Tips for the ultimate sexscape
Keep it brief
However tempting it may be to prolong your stay, keeping it short and sweet (eg: 1 or 2 nights) to keep it hot. Always leave wanting more!
Don't splurge first time
If you've met via online dating don't feel like you have to spend a fortune on the first meet. Enjoying each other's company is your number one requirement.
Be adventurous
This is the time to experiment outside your usual comfort zone. Want to feel like a deviant Dominatrix? Now's your time!
Honesty policy
Be honest with your partner about your fantasies and what you want to try. A sexy weekend is the perfect time to go for it!
Dress to impress
Choose outfits your partner hasn't seen before for the ultimate wow.
Eat
One cannot play well, if one does not dine well. Ensure you devour something suitably sumptuous (no, not your date's feet - we mean real food) to maintain plenty of energy for playtime. Better still, make it aphrodisiacal.
Do your homework
Always research the local culture and rules. In some countries it's actually illegal to own sex toys, so make sure that you know exactly what is and isn't allowed.
Check inclusions
Make sure you know exactly what toys and equipment are provided so you know what you need to bring yourself. You want to pack as light as possible.
Play safe
Where sex toys are provied make sure that you use condoms on all insertable toys.
Be a good guest
One of the benefits of hotel sex is not having to clean up afterwards. This doesn't mean NO one has to clean up. Be considerate and always put used condoms in a bin with a bag - this goes for both vanilla and BDSM hotels.
Go outside
The break shouldn't only be about the sex, taking time out away from the play room is as important as aftercare for couple bonding.
Whether you and your BDSM date have been together for a few months or ten years, a cheeky sexscape away breaks up your day-to-day daily life and stokes those burning embers of desire. Stress is your sex life's archenemy. If you prepare well for it, a perfectly planned sexscape could lead to the best sex you've ever had. Hallelujah!
Register for
Subs And Doms