So how kinky are you? How to tell your date you're into BDSM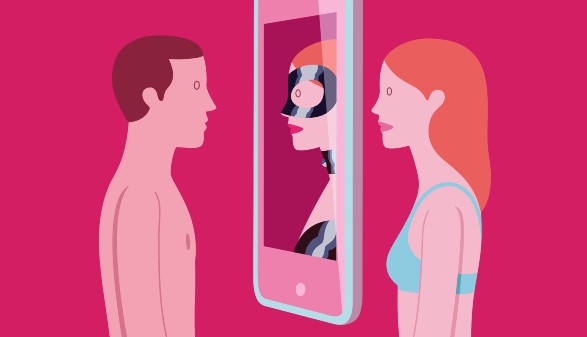 As we all know, it can be TOUGH out there in the dating world. Finding the perfect match can be exasperating especially if you also want someone who enjoys a bit of kink in the bedroom. Using an online dating app conveniently allows you to discover many more people than you could in real life. But even when you've finally found someone you connect with, how and when do you discuss your BDSM desires?
Here are our top five preparation tips to having that conversation.
1. Make sure they are a good person
Sounds kinda obvious, but BDSM relationships are all about trust so it's good to make sure that they're not an arsehole to begin with.
Check they are legit
Check where else their photos are posted. Perhaps their dating image is the same as their Twitter profile pic, you could discover some unsavory personality traits. It might even be a fake.
Are they on your level?
You have to be emotionally compatible, particularly important if you're hoping to instigate a sub dom relationship. It also means you can be completely honest about what you enjoy without fear of ridicule.
Protect yourself
You need to find a balance between privacy and openness with a prospective partner. Always protect your own personal details and never share any identifying information until you can be sure of who you are chatting to.
2. Ensure you've had a proper introduction
Firstly read someone's profile properly to see if you might be compatible.
Where to begin
Introduce yourself and say what you found interesting about the person you're sending the message to. Telling someone you've only just met online that you want them to "fuck you til you hurt me" might instantly shut the conversation down.
Don't overshare
Genital pics are a definite no-no. Similarly don't launch straight into everything that turns you on in case some of it turns them (and their Wi-FI connection) off. Especially if they are presenting as conservative or "vanilla," you need to approach with caution.
Breaking the ice
Meeting via a BDSM specific site or online dating app offers a safe, trustworthy place to explore the nuances of kink with people who will understand your darkest desires. Sites such as Subs-and-Doms allow users to specify their kink dating requirements such as those seeking a dominatrix. Finding someone who's into the same quirks as you can really help break the ice and initiate a bond.
3. Communicate clearly
Remember, whether you're talking about vanilla sex or gearing up to speak with a fellow kinkster, dirty talk is still a conversation and there is definitely an art to it.
The art of conversation
Show you're listening by responding to what they say, this is not a monologue. You want to show that you actually have some social skills. You should treat chatting online the same way you would chatting in person. Would you be ashamed to say that to someone's face? Then don't type it. Be respectful.
Ask questions
When the conversation naturally takes a sexual turn, start off with some open-ended questions which shows you're interested in the recipient as a person and not just someone to fulfil your deviant desires. "Do you have any fantasies?" "What's the sexiest thing you've done?" or "what's your favourite thing to do in bed?" are some good openers.
4. Gauge their reaction
While online is great at acting as a natural inhibitor, most people have little experience getting specific about their kinks.
Easy does it
It's better to start slow and get them to open up than storming in like a master dom demanding they wear nipple clamps and send you a pic. Tell them a fantasy of yours (water it down if you need to) and see how they respond. If they seem uncomfortable and embarrassed then stop.
Shake it off
Don't be offended if someone doesn't reciprocate, you can't control someone's emotional response but now you know that this person might not be the one for you. Remember BDSM is so multidimensional, that even if you've specified via a specialist online dating app that you're seeking a dominatrix, that person still might not have the same inclinations.
5. Be flexible
You may not find someone who fits all your desired criteria. Be prepared to be flexible (not like that, but always handy in bondage) as perfection comes in many forms.
Compromising situations
Just because you find someone online who's into the same kink, doesn't mean the relationship will survive. Sub dom partnerships take work. You might foresee a need to adjust your soft limits to complement your partner. Relationships always involve some compromise.
Work out your priorities
If you have a great connection with someone don't write off the relationship because they're not into your kink. Someone presenting as vanilla might not initially express any BDSM desires, but perhaps you can introduce them to some lighter beginners stuff. Some flexibility at the outset may mean the difference between a successful bond and losing someone who may, in time, be a 'perfect' fit.
Register for
Subs And Doms