Fetish and Fantasy: A kinky list from A-Z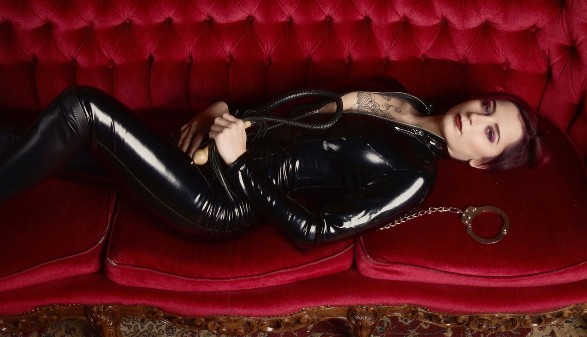 As you delve into the world of BDSM you'll find lots of things you're into and lots of things you aren't. Just because someone you've met through online dating likes sucking toes doesn't mean you have to let them suck yours if it makes you uncomfortable.
We've put together this cheeky list to tickle your BDSM tassels and pull back the curtain on some popular fantasies and fetishes. You might just find something here that's worth (s)exploring...
Agoraphilia
Enjoying sex in a public place. Fear of getting caught is the real turn-on!
Bukake
Where a person receives multiple cum over their face and body from ejaculating spectators around them.
Consensual Nonconsent (CNC)
Effectively rape-play or rape fantasies (both parties must have previously agreed on boundaries, CNC should never be spontaneous.)
Douching
Inserting water or other liquids into orifices and ejected, for the purpose of cleansing and/or sensory pleasure.
Exhibitionism
A popular fetish and fantasy of performing sexually in front of others.
Figging
Peeling and shaping a piece of root ginger which is then inserted into the anus or vagina. The burning sensation heightens arousal.
Gags
A form of bondage equipment worn over the mouth to prevent speech, usually a ball gag. Often for humiliation used in dom sub dynamics.
Human Furniture
Also known as forniphilia. The enjoyment of being used as a piece of furniture, for example, a footstool, chair or table.
Imprisonment
A thrill from being locked in a cage, cell, wardrobe? Perhaps your inner vampire is unleashed when someone opens your coffin...
Kitten Play
Animal role play where the consenting fetishist takes on the role of a kitten. Accessories used may include ears, tail plugs and collars to enhance the fantasy.
Latex
A common fetish found in BDSM dating is being turned on by the feel, sight or wearing of latex, leather, rubber or PVC. Anything that's tight, shiny and slippery when wet.
Medical Play
A popular role-play scenario of nurse/doctor and patient. This extreme play uses equipment such as catheters and speculums.
Nuru Massage
A Japanese form of massage where both participants are naked. The masseuse rubs their naked body over the other with the aid of specially formulated massage gel.
Orgasm denial
Denying a partner's orgasm for mutual sexual gratification. This could be through obeying and submitting to a dom or dominatrix's commands or with a physical aid such as a chastity device.
Psychrocism
A fetish dedicated to being cold, having sex with a cold partner or using cold objects (ice cubes, cold dildos, etc) during sex.
Quirofillia
A specific fetish for hands. The attraction could be part specific such as fingernails or simply hands performing actions such as washing.
Rough sex
This could include biting, scratching or power play in dom sub-roles.
Scatophilia
Or Scat play is an extreme fetish for human faeces.
Torture
BDSM torture usually involves bondage equipment and can be pretty wide-ranging from painful genital torturing to tickle torture.
Uniforms
Fetishes and fantasies involving uniforms to be worn by either the fetishist or their sexual partner.
Voyeurism
A kink for watching other people have sex.
Wax play
Melting hot candle wax onto someone's body for mutual sexual arousal.
Xenophilia
Intense attraction towards people from other cultures or strangers.
Yiffing
Sexual intercourse between furries (people with an interest in anthropomorphized animals).
Zentai
A fetish for wearing full lycra bodysuits
As you can see from the list, fetishes and fantasies are incredibly wide-ranging. The easiest way to find someone into the same things as you is via BDSM online dating sites. You don't need to be a scientist to experiment, all you need is kink and consent.
Register for
Subs And Doms