To honour and obey: What is Femdom?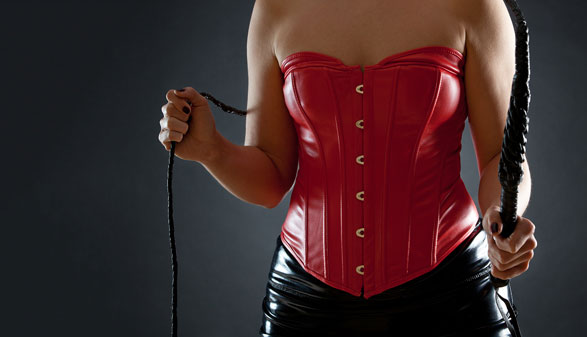 What is Femdom?
Femdom is short for Female Domination. Femdom covers a constellation of BDSM activities in which the female is the dominant partner. Dominant females may refer to themselves as a "Dominatrix", "Mistress", "Lady", "Madame" or "Goddess". The capitalisation of these terms signifies their identification in the dominant role. The sub/dom powerplay dynamic can take place regardless of sexual preference. A dominatrix doesn't necessarily only dominate males, they can also have female submissives.
What do Femdoms do?
Anything they want to, they're the ones in control remember? You only need to search BDSM sex toys to understand that practices and play are very wide ranging. Femdom is about mastering all power, authority, and sometimes ownership over their submissive sexual partner. Domination can be physical or psychological. From a telling-off with light spanking to extreme genital torture. You may simply want to enact role-play during sex, where your female partner assumes the role of, say, a demanding boss or prison officer? Whatever you seek requires open communication and finding the right partner in the Femdom community.

"With each addition of pain or restraint, he stiffens slightly, then falls into a deeper calm, a deeper peace, waiting to obey his mistress." - Marianne Apostolides.
Lifestyle Femdom
Your submissive desires needn't be confined to the bedroom. Lifestyle submissives can set rules with their dominant partner to continue the power dynamic during the day-to-day. The rules can range from something small such as calling your partner "Master" or "Queen" or it could involve asking permission to go to the bathroom. Perhaps you want to be forced to do manual labour? Whatever rules you choose to accept (for your Mistress is the one who ultimately decides) they can help keep desire burning until playtime.
Where can I find Femdom near me?
You're unlikely to determine who practices Femdom, as the traditional recognisable Femdom attire is usually saved for the privacy of the bedroom or BDSM social events. If you desire to be submissive in the bedroom and are seeking Femdom in your relationship, then online Femdom dating could be for you. It's the easiest way to access the Femdom community and find a woman who wants to take the dominant role. You could quickly be bowing down to a corseted, leather-clad Mistress before you know it.
Professional Femdom
If you want a quick-fix of submissive humiliation with no emotional attachments, a professional dominant (or pro-domme) may be your best bet. Professional dominatrixes do not usually offer sexual intercourse as part of their services. However, they have a high degree of knowledge and experience to perform complex BDSM practices safely. Pro-dommes pride themselves in their ability to meet the varying psychological and physical 'needs' of their clients. They don't come cheap however so prepare for your credit card to be spanked as well as your ass.

Every dom-sub relationship is different and has different levels of intensity and rules. The key to any relationship, sub dom or other, is in finding a partner with who you can connect both emotionally and physically. Good luck and have fun exploring the Femdom community!
Register for
Subs And Doms